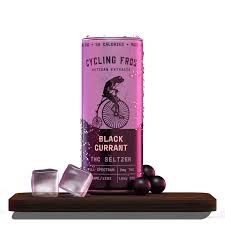 Delta-9 Black Currant THC:CBD Cannabis Seltzer 6pack
Delta-9 Black Currant THC:CBD Cannabis Seltzer 6pack
Per 6-Pack: 30mg Delta-9 THC, 60mg CBD
Our Black Currant THC seltzer is a tantalizingly sweet and tart, hard seltzer alternative. With 5mg delta-9 THC and 10mg CBD per can, our THC + CBD seltzer is designed to help you unwind, let loose, laugh, dance, laugh some more, explore, push the boundary and above all else, have fun.
Made with 100% Hemp Extract
Made with All Natural Fruit Juice
0% Alcohol
60 Calories
Vegan
Gluten Free
Non-GMO
Full Spectrum
INGREDIENTS: Water, Granulated Sugar, Black Currant Juice Concentrate, Water Soluble Hemp Extract (Distilled Water, Modified Starch, MCT Oil, Sunflower Oil, Hemp Extract), Black Currant Essence, Potassium Sorbate, Lactic Acid
Hurry! only 1 left in stock.