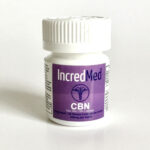 CBN Tablets
Sleepytime CBN can help beat insomnia naturally. Diabetic Friendly, Sugar free.
While CBN doesn't get people particularly high, it can make them sleepy. In fact, it's known as the cannabinoid with the greatest sedative properties. Consuming 5 mg of CBN is the equivalent of taking 10 mg of Valium – but with only 10% of Valium's psychoactive effects.
Good for Pain & Glaucoma
CBN/THC do share some similarities, however: both are excellent at killing pain, as well as reducing intra-ocular pressure in glaucoma patients. This spurred scientists to research various CBN effects to discover the medical potential of this cannabinoid. Lozenge – disolve in mouth.
Flavor: Flavorless
Unit: 1 x 20ct
%: 200mg CBN
Hurry! only 3 left in stock.