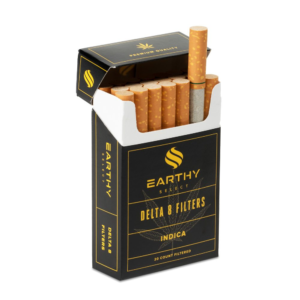 Delta-8 THC Cannabis Indica Filters
Delta-8 THC Cannabis Indica Filters
1,000mg Delta-8 per 1 Pack (10 Filters)
Our Delta-8 Indica Filters are made using a proprietary and premium blend of Kief and Delta-8, solely from US Farm Bill Compliant Flower.
We use high-grade, premium Flower plus trace amounts of other active cannabinoids. Infused with a blend of Skywalker OG and other cannabis derived terpenes for a wonderfully sweet earthy palette. Skywalker OG is an indica dominant hybrid strain that is a potent cross between the hugely popular Skywalker and OG Kush strains. Indica can be associated with intensely relaxing effects, so Delta-8 Indica Filters may be better for night time use.
Tobacco free.
Tobacco free.
Hurry! only 9 left in stock.