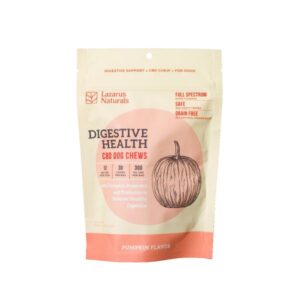 Digestive Health CBD Dog Chews
Digestive Health CBD Dog Chews
These newly reformulated soft chews are crafted to provide daily support for proper digestion, maintaining healthy and natural gut bacteria, and relief when your pup eats something they disagree with.
Lazarus Naturals CBD Dog Chews use only clean, science-backed ingredients proven to be effective and now offer twice as much full spectrum CBD in each for an unbeatable value of $0.07 per mg.
Our diverse panels of dogs overwhelmingly approved of our latest recipe, with the addition of molasses for flavor they can't resist! Enjoy an all-natural, grain-free way to support their overall well-being with targeted functional benefits.
All products are third-party tested for purity and potency—because your best friend deserves the best.
10 mg CBD per dog chew.
Ingredients: Organic Pumpkin Powder, Organic Garbanzo Bean Flour, Glycerin, Salmon Oil, Water, Organic Virgin Coconut Oil, Molasses, Phosphoric Acid, Inulin (From Organic Jerusalem Arichokes, Sucrose), Natural Flavor, Probiotic Blend (Bacillus coagulans and Bacillus subtilis), Curcumin Powder, Full Spectrum Hemp Extract, Sodium Bicarbonate. Contains: Tree Nuts (Coconut), Fish. Manufactured in a facility that processes peanuts.
For use with dogs only. Consult your veterinarian before use if your dog is taking any medications or if any adverse reactions occur.
Hurry! only 6 left in stock.