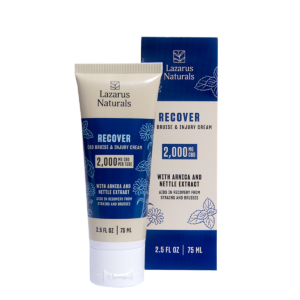 Recover CBD Bruise & Injury Cream
Recover CBD Bruise & Injury Cream
Formulated to provide support for quicker recovery from sub-dermal ailments. Our high potency, full spectrum hemp extract is enriched by fresh botanicals that naturally help in alleviating inflammation and swelling, reducing pain and discoloration from bruising, and promoting tissue growth. We use science-backed, time-tested ingredients like calendula, arnica, and nettle to enhance the anti-inflammatory potential of CBD and maximize relief.
Crafted for…
Active lifestyles that want a homeopathic, natural solution to bruises and injuries
Athletes looking for premium, functional support to help shorten recovery time
The day-to-day pains that can come with hard work, aging, or minor accidents
Hurry! only 5 left in stock.