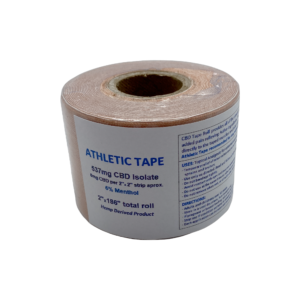 CBD Athletic Tape (Beige)
CBD Athletic Tape (Beige)
The CBD Athletic Tape Roll provides all of the stretch, support, and benefits of traditional Kinesiology tape, but with added pain relieving ingredients. The menthol creates and intense heating and cooling sensation directly to the taped muscles and joint where and when you need it most, while the CBD works as an effective anti-inflammatory.
186″ x 2″ total roll
537mg CBD Isolate total roll
6mg CBD Isolate per each 2″x2″ strip aprox.
6% Menthol
Hemp Derived Product
For External Use Only – Topical
Made in USA
Ideal for relieving aches & pain associated with:
Backaches
Arthritis 
Tendonitis
Sprains
Muscle Strains
Bruises
Hurry! only 4 left in stock.