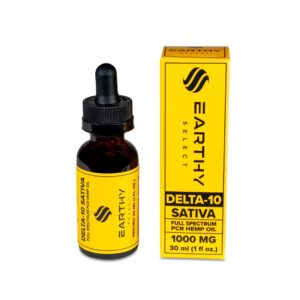 Delta-10 Sativa Oil Tincture 1:1 THC:CBD
Delta-10 Sativa Oil Tincture 1:1 THC:CBD
1,000mg per 30ml / 1oz (500mg Delta10+Delta8 + 500mg CBD)
Earthy Select Full-Spectrum PCR (Phytocannabinoid-Rich) CBD Extract is combined with our Delta-10 THC Distillate and expertly blended with Organic MCT Oil (coconut derived) with no additives to make our proprietary tincture. The taste is smooth and earthy and rich in true cannabinoid flavor. A delightful entourage effect is created from the whole-plant-extraction CBD oil and dominant terpenes.
Sativa strains are typically associated with feeling productive and creative. Because of its stimulating impact, Delta-10 Sativa Full-Spectrum PCR CBD Oil may be better for day time use.
Ingredients: Full-Spectrum CBD Extract, D-10 Distillate, Organic MCT Oil.
Suggested Use: One Full Dropper under tongue for 45 seconds before swallowing, as needed. Effect may be stronger on an empty stomach.
Hurry! only 2 left in stock.