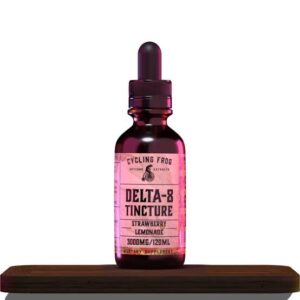 Delta-8 THC Oil Tincture
Per Bottle: 3000mg Delta-8 THC
Our Strawberry Lemonade delta-8 THC Tincture is scientifically(ish) proven to deliver a power-packed dose of delicious delta-8 THC to your face. With 25mg of delta-8 THC per serving, our tincture is designed to help you unwind, let loose, laugh, dance, laugh some more, explore, push the boundary and above all else, have fun.
Made with 100% Hemp Extract
All Natural Flavors
Gluten Free
Vegan
Non-GMO
INGREDIENTS: Fractionated Coconut Oil, Hemp Extract, Strawberry Essence, Lemon Essence, Key Lime Essence
Contains: Tree Nuts (Coconut)
Hurry! only 2 left in stock.