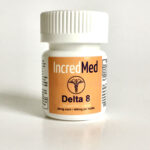 Delta-8 THC Cannabis Tablets
Delta-8 THC Cannabis Tablets
Take out stress naturally and chill out with the extra soothing effects of Delta 8. Each tablet contains 20mg of psychoactive Delta 8. The effect of Delta 8 should take effect within 90 minutes or less, and last for about 3-6 hours. The health benefits of delta 8 THC include: Reduced stress and anxiety, Deeper sleep, Lower pain and inflammation, Less nausea and vomiting, Elevated mood, Neuroprotective properties, Boost of appetite
Anti-cancer properties. Lozenge – disolve in mouth.
Unit: 1 x 20ct
%: 400mg Delta-8 THC
Hurry! only 15 left in stock.